Welcome to BusGraphicsAmerica.com

When it comes to bus graphics, bus wraps and bus advertising allow the professionals at BusGraphicsAmerica to provide you and your organization with the finest, most affordable and highest quality combination of "charter bus service and bus wrapping".  BusGraphicsAmerica is a wholly owened division of USA Bus Charter, Inc., one of the nations largest and most established charter bus rental networks in North America. With charter buses, tour buses and specialty coaches in more than 350 U.S. cities, BusGraphicsAmerica can provide you access to the finest motorcoaches and buses as well as the most professional installation of your graphics "anywhere in the U.S.".  Our "One Call Does It All" process allows you to work with a dedicated charter bus and graphics specialist to streamline the process of chartering a bus and having your graphics designed and installed. No more hassles of working with more than one company and no worries about "will it fit and will it look right".  Because your using BusGraphicsAmerica our charter bus and bus graphics department work hand in hand and can assure you a worry free service, each and every time.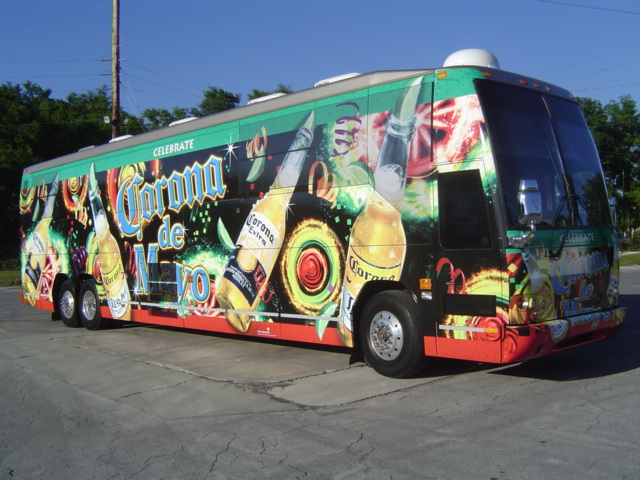 • Call Us Now For A Free No Obligation Quote | 800.259.0515 •

Just a Few of Our Recent Charters ( Click to Enlarge Photo )

BusGraphicsAmerica.com | © Copyright 2008         Toll Free 800.259.0515         Email:  brandon@usabuscharter.com

Nationwide Service. One Call Does It All.

From New York to Los Angeles and San Francisco to Miami it only takes one call to have the finest combination of charter bus service and custom bus wrap graphics. Trust the professionals at BusGraphicsAmerica to provide you with the winning combination of service and quality for your organization.

All Bus Wraps Are Not Created Equally !

Don't waste your money on a vehicle wrap that's illegible, poorly designed, doesn't represent your company well or is improperly applied. Many facets of vehicle wrapping must be considered - and they cannot be learned overnight. How much money are you really saving if your advertising doesn't work? Let the professionals at BusGraphicsAmerica work with you to develop an effective marketing tool that will help your business grow!

Nationwide Charter Bus and Bus Graphics | 350 U.S. Cities

Albuquerque |  Arlington  |  Atlanta  |  Austin  |  Baltimore  |  Boston |  Charlotte  |  Chicago  |  Cleveland  |  Colorado Springs  |  Columbus Ohio  |  Dallas

Denver  |  Detroit  |  El Paso  |  Fort Worth  |  Fresno  |  Honolulu  |  Houston  |  Indianapolis  |  Kansas City  |  Las Vegas  |  Long Beach

Los Angeles  |  Louisville/Jefferson County  |  Memphis  |  Mesa  |  Miami  |  Milwaukee  |  Minneapolis  |  Nashville-Davidson  |  New Orleans

New York  |  Oakland  |  Oklahoma City  |  Philadelphia  |  Phoenix  |  Portland  |  Sacramento  | St. Louis  |  San Antonio  |  San Diego  |  San Francisco

San Jose  |  Seattle  |  Tucson  |  Tulsa  |  Virginia Beach  |  Washington, DC  |  Wichita


Competitive Rates Nationwide

Professional, Licensed & Insured Installers

New and Late Model Charter Buses

Quick Turn-Around | Fast Installation Service

40 Years Combined Industry Experience

"One Call Does It All Service"

Over 9000 Buses Available Nationwide !

3M Certified Graphics Department "In House"

Major Credit Cards Accepted

Corporate & Government Accounts Welcome

We Will Not Be "Undersold" Call Us Now !

Bus Graphics, Bus Wraps, Bus Wrapping, Bus Advertising, Promotional Bus, Bus Charter and Wrap, Bus Images, Bus Vinyl, Bus Stick On Advertising, Bus Graphics Company, Bus Branding